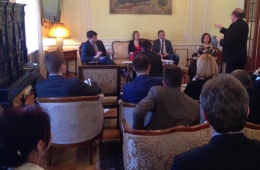 26 Már

Discussing V4 Digital Agenda with Hungarian stakeholders

On 24 March 2015, CEID and CEPI held a joint workshop in Budapest to discuss the V4 digital agenda with Hungarian stakeholders. Our new mapping paper was introduced. V4 and Hungarian views on the digital single market (DSM) being constructed on the EU level were also addressed. This workshop was part of our joint project supported by the IVF. Chaired by Daniel Bártha, panelists included Peter Balik, co-creator of the Slovak startup strategy and expert on financial and non-financial support measures for startups (Slovak Ministry of Finance), Ľubica Karvašová (Slovak Ministry of Foreign and European Affairs) and Maria Staszkiewicz from the Aspen Institute-Prague, which is our Czech partner in this project.

Panelists introduced the state of play regarding the digital agenda in each of the V4 countries and the objectives of the Slovak V4 Presidency. Further common steps in completing the Digital Single Market were also discussed. István Erényi, Digital Champion of Hungary, praised the Presidency for courage achievements of the Slovak V4 and foresight in promoting digital agenda on the regional level. A recent V4 non-paper on the DSM describing it "as an opportunity for entrepreneurs and consumers" was mentioned as a valuable achievement and a useful contribution to the current EU policy debate.

There was a wider understanding that in such a short period of time the appropriate level of ambition is to introduce this important policy discussion to the V4 level, and coordinate the joint V4 contributions to the Digital Single Market package on the EU level. Given the fact that it is relatively new agenda, Bratislava could, together with Budapest, Prague and Warsaw, set the goals for Visegrad cooperation for the next 2-3 years and select relevant segments in which tangible results could be achieved. In this context, the current consultative process on promoting start-ups is a positive development. The V4 will also have to move forward in other areas. Other segments of the digital agenda discussed at the Budapest event were barriers for cross-border e-commerce, the right level of data protection, and the need to improve digital literacy with a strong link to entrepreneurial skills fostering creativity and innovation via education systems.